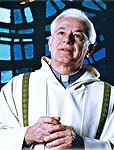 Bishop Kenneth Untener, the seventh of nine children, was born in Detroit, Michigan in 1937.  He was educated at Sacred Heart Seminary, St. John's Provincial Seminary, and the Pontifical Gregorian University in Rome.  After a short term in parish ministry, he began teaching at Sacred Heart Seminary.  In 1977, he was named rector of St. John's Seminary.
In 1980, at the age of 43, he was named the fourth Bishop of Saginaw.  Bishop Untener was praised by his peers for his ability to manage his diocese, develop leadership skills in both priests and laity, as well as delegate responsibilities.  Upon his consecration as bishop, he sold the episcopal mansion and began the practice of living for periods of time in various parish rectories.  This approach allowed him the freedom to travel, teach, and preach.  He was frequently invited to speak to those in ministry because of his deep understanding of Sacred Scripture.
In 2000, he created the first "Little Black Book," which helped the faithful spend some quiet time with the Lord through reflection on Scripture during Lent.  He soon created similar volumes for other liturgical seasons.  The books are still in production and the sales are in the millions.
After a brief period of illness, Bishop Untener died from a form of leukemia, on March 27, 2004.  He was 66 years of age.
Bishop Untener was a life-long friend of the IHM Community.  His sister, Mary Ann, is a member of the Congregation.  On visits to the IHM motherhouse, he would joke that his claim to fame was his relationship to his sister.  A number of IHM sisters came to serve in positions of pastoral ministry during his time in the Saginaw dioceses.  Thus, Visitation North Spirituality Center is pleased and honored to "host" Bishop Untener's homilies with their deep and thoughtful insights into the words of Scripture.